With all due respect to everyone I've been writing about lately, it's been a
long
time since an artist has reached out to me directly whose music is so stunning that I have a visceral response to it.
Rosas y Mesteños
is just a beautiful collection of work. The songs feel deeply rooted in a sense of place. Each song feels like a brief tour of the far rest. Unlike most folks, though, Forrest's obvious respect for his many homes makes these exotic locales and textures a fitting, natural backdrop to human foibles, such as a brief mention of "reservation cigarettes" in "Mesteños."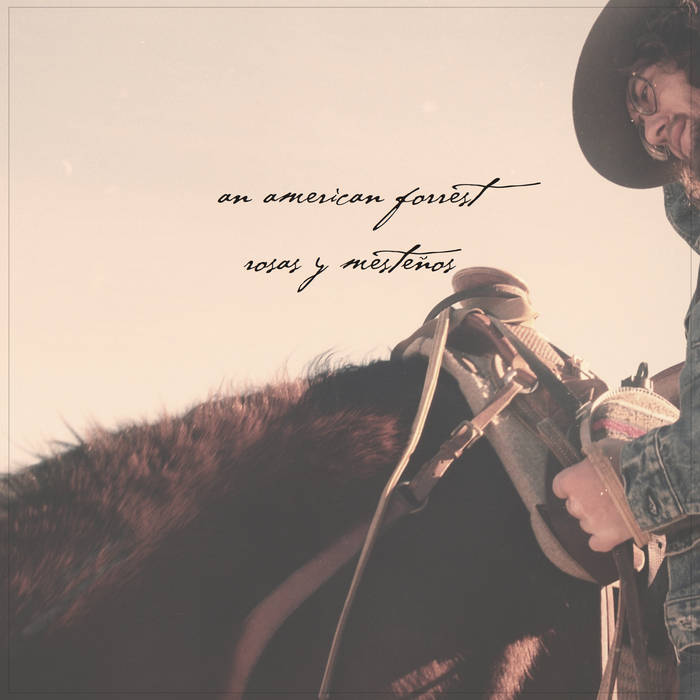 The lyrics read like poetry, such as the stream-of-consciousness "Saintless (All We Had)":
you said "love's like livin' on gravel roads - you're just waitin' to be lost"
you said "do you think about your mother often,"

I said "more often than not"
& we thought about the bad lands, & the goodlands, & the indifferent lands &
we thought about southpaw gunfighters & horses tradin' hands
She was closer to that ol' Idaho paint than she ever got to any man - she'd tie our sheets into hackamores, whisper "amen" & scream "goddamn"
I said "it felt strange to learn my mother's name"

she said "what was it?"

I said "maria" & "I get hungry when I'm in wheatfields" she "you have dinner yet?"

I said "just tequila"
These are the real cowboy blues -- long stretches of road, loneliness, inscrutable feelings and people.
Forrest's spare arrangements -- flush with punk references, tinny trumpets, and country swing -- create a stark soundscape that reflect the mountains and mesas that inspired the lyrics. This is already one of my strong contenders for my top ten of the year, and you all should buy this album so Forrest can make it out east sooner rather than later.
But if you're lucky enough to live out west, you can catch Forrest soon:
3/21 - Salt Lake City, UT - Gracie's Pub
3/23 - Tucson, AZ - The Dusty Monk
3/24 - Bisbee, AZ - The Quarry
3/25 - Silver City, NM - Toad Creek Brewing
3/26 - Rio Rancho, NM - Blue Grasshopper
3/27 - Las Vegas, NM - House Show
3/28 - Santa Fe, NM - Cowgirl BBQ,
3/29 - Taos, NM - Old Adobe Inn
3/30 - Pagosa, CO - Riff Raff Brewing
3/31 -, Boulder, CO - Laughing Goat
4/3 - Livingston, MT - Murray Bar
4/5 - Bozeman, MT - Bacchus Pub
4/6 - Great Falls, MT - Back Alley Pub
4/7 - Helena, MT - Jesters
4/8 - Moscow, ID - Humble Burger
An American Forrest --
Official
,
Facebook
,
Bandcamp