Round Eye has been cooking up
Monstervision
for quite some time, though perhaps the election of Donald Trump gives the album's off-kilter alternative universe a more unnerving basis in reality. Intercut with monologues from the fictional
Monstervision
's host (and real former
Daily Show
correspondent) Joe Bob Briggs,
Monstervision
is a pulsating ride through Round Eye's darkened vision of American culture and the world at large. Briggs' mild-mannered, off-color, down-home humor juxtaposes the disarming American ego with Round Eye's furious id. Combining punk beats and wailing saxophone solos, Round Eye gives the impression of a ska band going through an inspired but bad acid trip.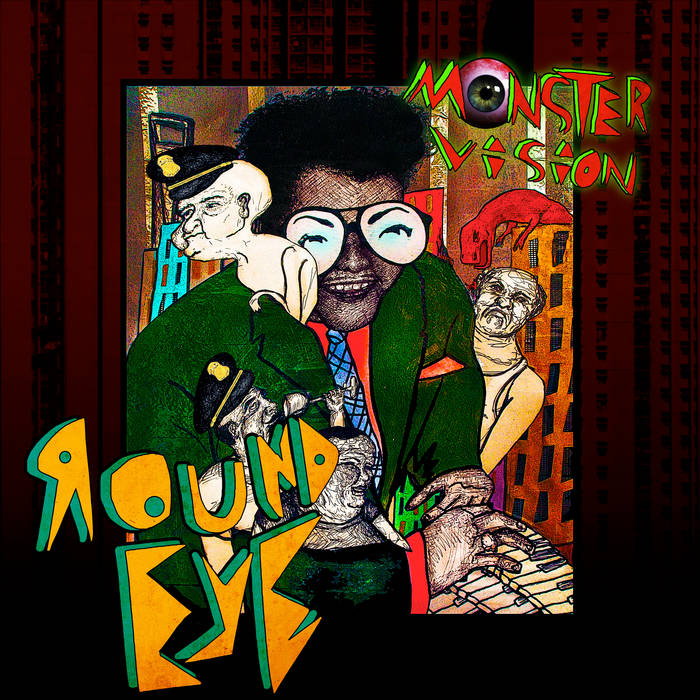 The band's "Billy," a timely commentary on police brutality, savagely critiques macho American culture:
Billy, Billy started thinkin'
Something fundamentally had gone wrong.
Billy Billy started pumpin'
pallid muscles in the arm of the law.
Billy was a cop, Billy was a cop, Billy was a cop, Billy was a cop...
Billy, Billy, Billy, Billy
Billy was the answer
Billy was the answer!
G.I. Joe, an American hero, Billy!
Billy: Billy was a cop. Freedom is a cop.
It's worth noting that the band is based in Shanghai, and while the critiques against the Chinese and North Korean regimes are muted, they do get a dig into Xi Jinping in "Pink House," though the vitriol is of course reserved for Trump himself:
T R U S T in the government
My government, it's about time
They calm their political agendas
And try mine. My place
My party my race and my stock
Are the things that really make this land great, oh yeah!
Much like the campy horror movies the original
Monstervision
TV show played, the album is full of incomprehensible goofiness, earnest commentary, and a strange intensity that twists a pit in your summit. But at the end of the day, it's all fun and games.
For now.
Round Eye --
Official
,
Bandcamp