God damn if Andy Thomas'
No Poets
isn't one of the most exuberant celebrations of life this year. It didn't come without a price, though. If you've been around for a while you'll know Thomas' voice as one of the frontmen of Tin Horn Prayer.
No Poets
arrives in the wake of Thomas' mother's (victorious) battle with breast cancer and the death of other Tin Horn Prayer frontman Mikey Herrera.
No Poets
kicks off with the starkly joyous "Everything Alive," a folk punk song with the intensity and sincerity of a tent revival. Thomas envisions a world in which
Don't want anything old
Just want everything new
I don't want nothing broken, faded, blackened, or blue
Baby I want everything new
I want everything alive
I think I've had enough death
I don't want my friends until there's none of them left
Baby I have had enough death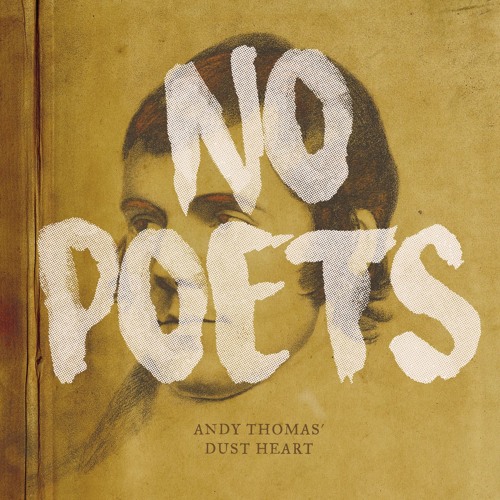 Thomas isn't pie-eyed by any stretch, of course -- he's been around too long for that. Songs like "Country Roads/City Streets" and "The Smaller Names" simultaneously celebrate and acknowledge the life of a road-dog musician. Thomas' staunch determination to live life his way and his confidence in being true to himself makes this album a breath of fresh air in a field crowded by false humility and almost obligatory gestures to the country roads Thomas sings of. The band is as tight as can be -- they share in Thomas' commitment to honest music.
Andy Thomas' Dust Heart --
Facebook
,
Bandcamp
Keep the homefires burning by becoming a Patreon subscriber! Don't want to commit to a subscription? Consider giving me a small tip (ie buying me a coffee) through Ko-Fi -- no account required!