While
Monsters
, the debut album by Ladyshark, may feel
very
immediate, it's actually been around for a while. The Nashville punk duet unflinchingly addresses the monsters that have stalked us well before Donald Trump was a sickly twinkle in his Nazi father's eye and, unfortunately, will continue to stalk us for long after.
Monsters
is a profoundly feminist album that confronts assault, partner violence, and sexism with steady hands, steadfast hearts, and blistering guitar riffs.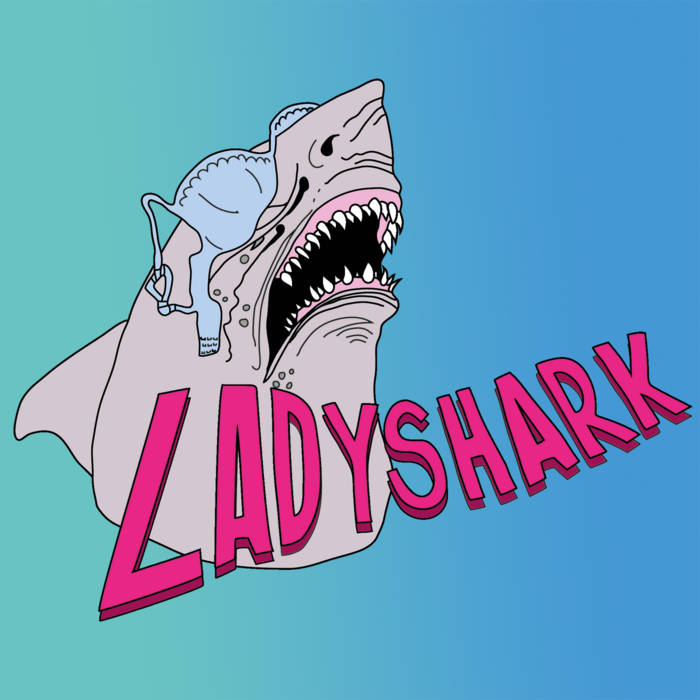 I'm not sure if Ladyshark would call themselves riot grrl but the influence is unmistakable. Sleater Kinney-style angular guitar riffs thunder through songs that are designed to leave the listener off-balance. Ladyshark is not here to comfort you. On "Riot" they sing,
What the hell is it to run like a girl?
When is a job made for a man in the world?
How can you make a woman scream?
When you tell her she can't do anything!

Hold back your tongue
Gender roles are no fun
Rebel against the rules
Stop listening to fools

Why do women get paid so much less
Don't expect me to feel good in a dress
We won't bow to your toxicity
Our gender comes with fluidity

Hold back your tongue
Gender roles are no fun
Rebel against the rules
Stop listening to fools
Maybe this just hits a chord with me at the moment -- the holidays are all about spending time with family, reminiscing on childhood, thinking about the roles you have in life and might one day want, and spending time with people whose expectations for you are invariably different from what
you
want. I also think that these themes are extremely important for a band coming from Nashville, where the expectations for women in music -- especially country music -- are quite prescribed.
While most of the album deals with very serious themes, Ladyshark has fun as well. "Seance" details a supernatural experience gone horribly, but entertainingly, wrong.
A final note about the album. "New Years Day" describes a conversation with a trans* woman, though the song uses the word "trans sexual" [sic.] For those who may not know, this word is generally out of favor in the trans* community, though there's a reason that asterisk exists. I am not sure how the woman in the song describes herself (if the song is in fact a true story), but in general usage it's better to simply use "trans" or ask the individual what words they use to describe hirself. If Ladyshark has any details to add I'm happy to update this post.
Or maybe find out in person! Ladyshark will be playing an album release party
for their new album Lovesick
(to be reviewed here soon)
tonight
at The 5 Spot at 8! Details
here
!
Ladyshark --
Official
,
Facebook
,
Bandcamp
Thanks for reading! Help me help you find great music and get my holiday shopping done! Subscribe to my Patreon or drop a one-time tip in my Ko-fi cup!