What a difference a year makes. As it turns out, the Ladyshark review I posted
last week
was for the band's first album.
Lovesick
was released last Thursday and it shows exponential growth in the band's sound. Both albums are excellent, but
Lovesick
has an increased sophistication to it. The album's title track advertises this from the jump, featuring multiple gravity-defying tempo shifts In this go-round, Ladyshark invokes Bikini Kill's penchant for chaos to tackle adulthood, relationships, and managing relationships in adulthood.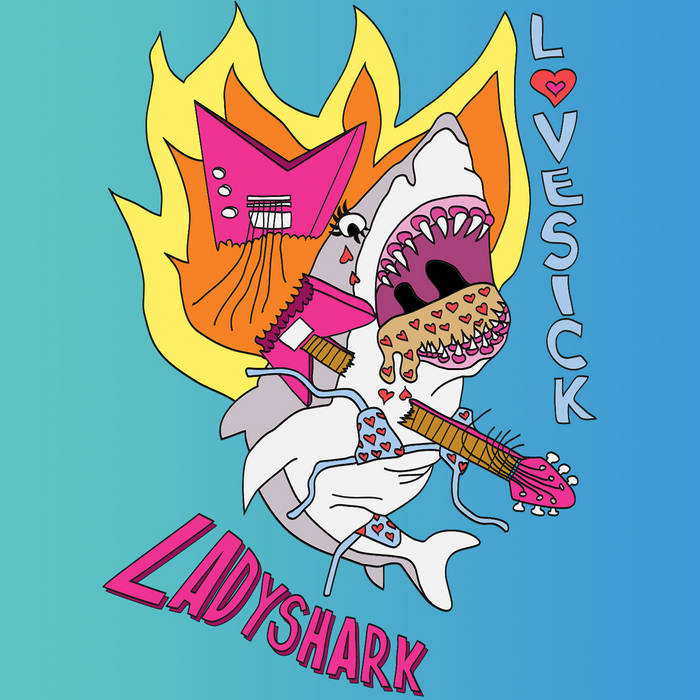 I don't know why but over the past couple of days I've been in my feelings (as the kids say) about not being where I feel I "should" be -- especially compared to most other people my age. "Never Grow Up" casually throws a grenade into all of that:
All of my friends are having lots of babies
I'm content that my pets don't have rabies
You really don't need to have kids to make it
The worst thing is having them and trying to fake it

I I I don't wanna ever grow up
I I I don't wanna be a boring grown up
I I I don't wanna live with a foot in the grave
I I I don't wanna feel like dying to escape
So let's never grow up
Never grow up
Both "Lovesick" and "Never Grow Up" provide a sort of musical and thematic overture to the rest of the album, which similarly careens through critiques of social expectations and emotionally unavailable lovers. (I know that's not exclusive to queer relationships but I honestly feel like we corner the market on it.) One reprieve, "Shiny Things," is a sweet story about losing an engagement ring and how that's not the part of anything that really matters.
Ladyshark --
Official
,
Facebook
,
Bandcamp
Thanks for reading! Help me help you find great music and get my holiday shopping done! Subscribe to my Patreon or drop a one-time tip in my Ko-fi cup!