Roxie Watson has been near and dear to my heart for quite some time. The four-piece amiably dips into bluegrass, country, rock-a-billy, and folk with equal measure, and on their fourth release
Try A Little Kindness
, they throw in a generous helping of humor. While the band divvies up vocal and songwriting duties, Lenny Lasater's cigarette-infused alto takes the fore on this outing, giving the album a pleasant down-home folksiness.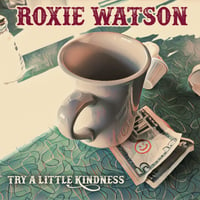 In a year where everyone's trying to establish their political street cred,
Try A Little Kindness
takes a different tack. After all, the band has had plenty to say in the past about homophobia and the exploitation of working-class people. The album title itself, is of course, a reminder of how things should be. "Simple American Life," which will be featured on the kick-off of Adobe & Teardrop's podcast and premieres tomorrow (!), is a gentle but forceful reminder that queer partners tend to want the same things as everyone else: respect, stability, and security. But "Sure As" reminds us, with tongue in cheek, that "progress" isn't necessarily progress at all:
Another holiday, another new year's eve
Lots of good intentions
Bad habits need to leave
I know we're getting older
And thicker through the belt
But I don't think I'll ever like
My bread being made from spelt!
The band members have played together in various configurations for decades, and Roxie Watson has never sounded tighter.
Try A Little Kindness
showcases inventive storytelling that reminds us that
real
Americans have common sense, dignity, and compassion for others.
Roxie Watson --
Official
,
Facebook
, Purchase from
CDBaby
Thanks for reading! You can support the blog and podcast by subscribing to our Patreon or dropping a one-time tip in our Ko-fi cup! Stop by tomorrow for the full podcast!